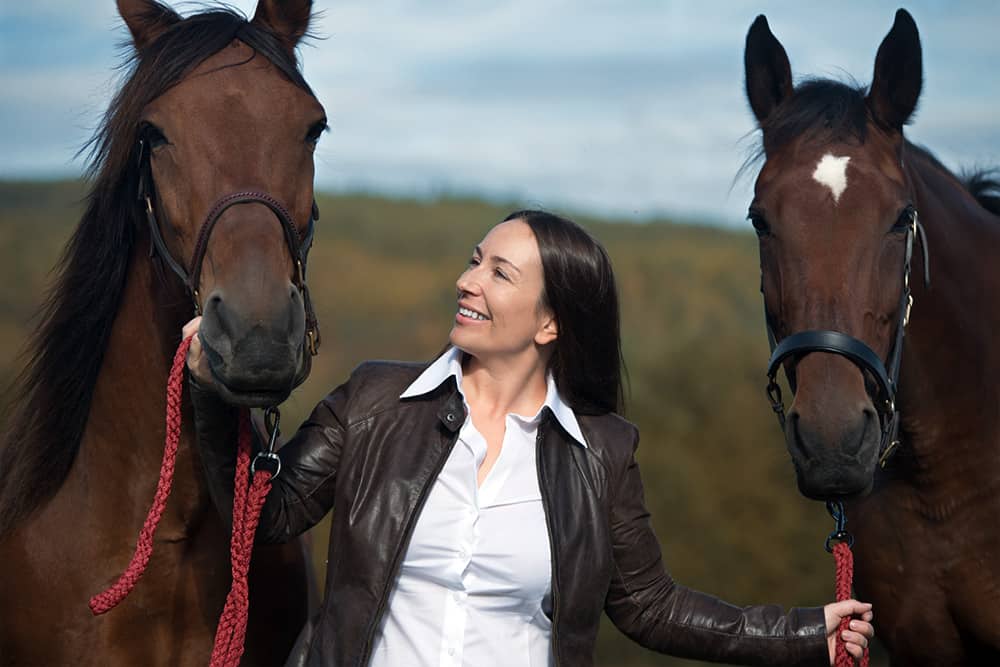 "I have had the pleasure to work with Sara during her PhD work at the Swedish University of Agricultural Sciences, her post doc work at AgroSup Dijon ‐ INRA, France and in building a site (www.forageforhorses.com) for information regarding feeding of horses. Sara has excellent skills in her profession and can transfer research work to popular science. Sara is a person who delivers on time according to plan and always in a positive spirit. When challenges appear she comes up with solutions. I hope I will have the pleasure to work with Sara again."
– Lars Öhrn, Business Development Agri Group Manager
Sara is the author of the books "Forage for horses – for health and performance" and "Grovfoder till häst – för hälsa och prestation".
The books are about:
Does the horse drink more or less when eating wet silage? What happens when the horse is fed excess protein? What affects forage digestibility? How do different forages affect the horse´s performance? These questions and a lot more is discoursed in this book. Several major research studies on feeding forage to horses that have been performed during the last years are summarized here. Forage is the important base in horse feeding – take part of the knowledge and feed your horse for health and performance! ISBN: 978-91-7463-177-7.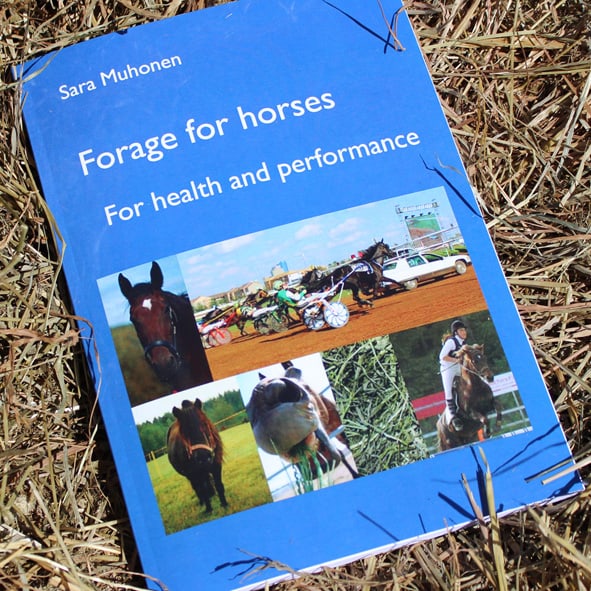 Effects of different fibre sources on the hindgut ecosystem and fluid balance of sedentary and athletic horses
The feed ration can mainly consist of forage also for high performing horses if the ley is harvested in an early stage of maturity to contain sufficient amounts of energy. Harvest date also affects forage fibre content. The horse's hindgut functions as a fluid reservoir and the feed's fibre composition can have large influence on the fluid reservoir and its microbial ecosystem. The aim of this research project was to generate new knowledge in fibre function in the equine hindgut which has great impact on promoting healthy diets for both sedentary and athletic horses.
In conclusion, a feed ration consisting of only early harvested grass can imply in total an increased amount of bacteria, higher water-holding capacity and higher buffering capacity in the hindgut but still not a heavier horse. A forage-only feed ration of any quality whichever does not necessarily imply higher water-holding capacity in the hindgut and higher water-holding capacity of intestinal content does not necessarily imply a heavier horse. Therefore early harvested grass can be beneficial for the high performing horse's hindgut ecosystem and fluid balance with a more available fluid reservoar in the hindgut without making the horse heavier.
Metabolism and hindgut ecosystem in forage fed sedentary and athletic horses
There are few silage studies performed on horses and very few on high performing horses. The different ways of conserving forage implies differences in the chemical composition of hay, haylage and silage. The difference between haylage and silage is that haylage is drier and therefore has less or no lactic acid fermentation. Silage however contains more water and lactic acid and less sugar. As silage contains more lactic acid the pH value becomes lower.
The aim of this doctoral thesis was to examine the effects of forage differing in crude protein content and conservation method on metabolism and the hindgut ecosystem, during abrupt feed changes and after three weeks of adaptation as well as during exercise.
In conclusion, forage with high crude protein content results in increased activity in the colon ecosystem, increased excretion of nitrogen via urine and faeces and an increased water intake. An abrupt change from hay to haylage or silage implies small changes in the microbial composition in the colon. Forage digestibility is higher for silage than hay. The different feed rations tested, differing in crude protein content and conservation method, implied no differences during or after exercise.
The behaviour of foals before and after weaning in group
Weaning is a standard procedure at most studs, and the methods of weaning varies greatly. The method used at the stud in this particular study is supposed to decrease stress. The purpose of the study was to compare the behaviour of foals in group before and after stepwise removal of their mares when the foals were 5 month old.
The study shows that all foals, even the ones with their mare still in the group, were affected by the situation during removal days. Weaning affects the foals resting behaviour and at 5 month of age the mares have still not started their weaning process of the foals which means that the foals try to suckle other foals. The bond between mare and foal is very strong and earlier reports indicates that there is a strong correlation between early, abrupt weaning and future stereotypies. The foals' age is rarely considered and probably they are often weaned too young. We have a short pasture period in Sweden and late weaning require proper feeding of mare as well as foal because in late summer/autumn the pasture has a low production of nutrients. The negative effects of late weaning is in reality often an effect of poor pasture. In Sweden a lot of studs wean when they take the horses from pasture for practical reasons, for example too small boxes. We need to develop new housing systems where it is possible to wean the foals at an older age. We also need proper recommendations for how and when to wean our foals. The decision how to wean the foals and at which age should be based on the natural behaviour of the horse and not on tradition.